Grid-Tied (Net Metering) Battery Backup
Traditional grid-tied solar systems only operate when utility power is available. Without energy storage, a grid-tied PV solar system shuts down during a power outage. The combination of solar energy and battery storage works seamlessly to provide power to essential appliances during an outage, working similar to an off-grid system.
During the day, your home is powered by energy produced from your solar panels. At night during an outage, your home is powered by the excess energy produced by your solar panels and stored in your battery system.
An additional and profitable benefit of an energy storage system is the ability to reduce expensive, peak time-of-use utility charges. While not available in all utilities, storage systems can reduce your electric bill by allowing you to draw power from your batteries during peak rate hours and then recharging when the sun is shining and rates are lower.
Off-Grid Battery Backup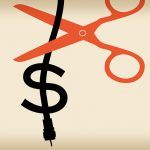 An off-grid system allows you to completely sever the connection to your electric utility. Battery technology has come a long way, but due to their high cost and limited power storage capabilities, off-grid systems are best suited for homes that have a significantly lower electric consumption than that of conventional homes and homes that are in remote locations with limited grid access.
Not only do off-grid systems require your solar panels to produce enough energy to offset 100% of your electric consumption (since you are not tied to the electric grid), but they also require a battery backup system. The battery backup system stores excess energy produced during the day and also provides a backup source of energy for nighttime consumption when your panels are not producing.
We Can Design a Battery Storage System That Meets Your Needs

SolarEdge's StorEdge DC coupled storage solution automatically provides homeowners with backup power in case of grid interruption, and allows home owners to maximize self-consumption for maximum energy independence. Unused PV power is stored in a battery and used during a power outage or when PV production is insufficient. When there is a power outage, a combination of PV and battery is used to power important loads such as the refrigerator, TV, lights and AC outlets, day or night. The solution is based on a single inverter for PV, storage and backup power.
A home battery takes your energy independence to a new level. Protect and power your home without relying on the electric utility.
Experience the benefits of greater energy
independence and management.